We are often approached by land owners wishing to hold several weddings a year, but not develop a "wedding factory". All of our weddings and parties are bespoke.
Many of our clients looking at Cotswold wedding venues live in London or abroad and sometimes have no connection with the area at all apart from say having had a good lunch in a pub like the Swan at Swinbrook.
So what makes the ideal venue to get married in? My view is that you need to find a venue that offers you a blank canvass. Forget restrictions, house wine and bad lighting. You need a space to create your dream and not worry about upsetting the management!
You also need to have confidence in the catering – menu design is so important nowadays. Your menu should reflect you and take advantage of the wonderful fresh produce that is abundant in the Cotswolds.
So here are Henry's top two new Cotswold weddingvenues for 2016…
Poulton Hill Estate www.poultonhillestate.co.uk
Poulton Hill Estate is a small family-run English vineyard producing limited quantities of English Sparkling wine and a superior Cotswold Brandy.
The house and grounds are set on a hill with spectacular views across the Cotswolds and down into Wiltshire. The imposing long room seats up to one hundred guests and opens out onto a beautiful Italian courtyard. Fantastic photo opportunities exist in various hidden walled gardens and amongst the vines, with ample space for marquees for larger bespoke parties. There is accommodation for six couples (say the close wedding party) and it is easily accessible to other local hotels and B&Bs.
Poulton Hill Estate is stunningly beautiful and peaceful venue that is available for special one off bespoke parties and luxury weddings. My dream wedding there would be to span a marquee over the Italian courtyard for dinner and then create a night club in the Long Room to dance late into the night…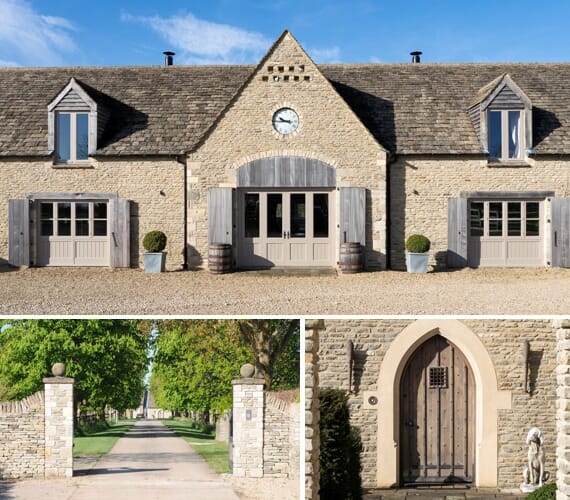 Pinkney Court www.pinkneycourt.com
Pinkney Court sits just south of Tetbury and dates back to Medieval times and was once owned by the Holford Family who created Westonbirt Arboretum. The house is surrounded by its own land and beautiful gardens with accommodation for up eight people and it is very close to other hotels such as Calcot and Whatley Manor.
You will need a marquee at Pinkney Court which can be set in the stunning walled garden and the main house as a back drop and it is quite a back drop! With amazing views, HRH Prince of Wales up the road at Highgrove and attractions such as Tetbury and Westonburt Pinkney Court is perfect for guests wanting to experience the Cotswolds.
My ideal wedding at Pinkney Court would be a traditional marquee with poles and guy ropes on the lawn. They also have their own herd of Suri Alpacas to keep your guests on their toes!