Top Tips for your Winter Wedding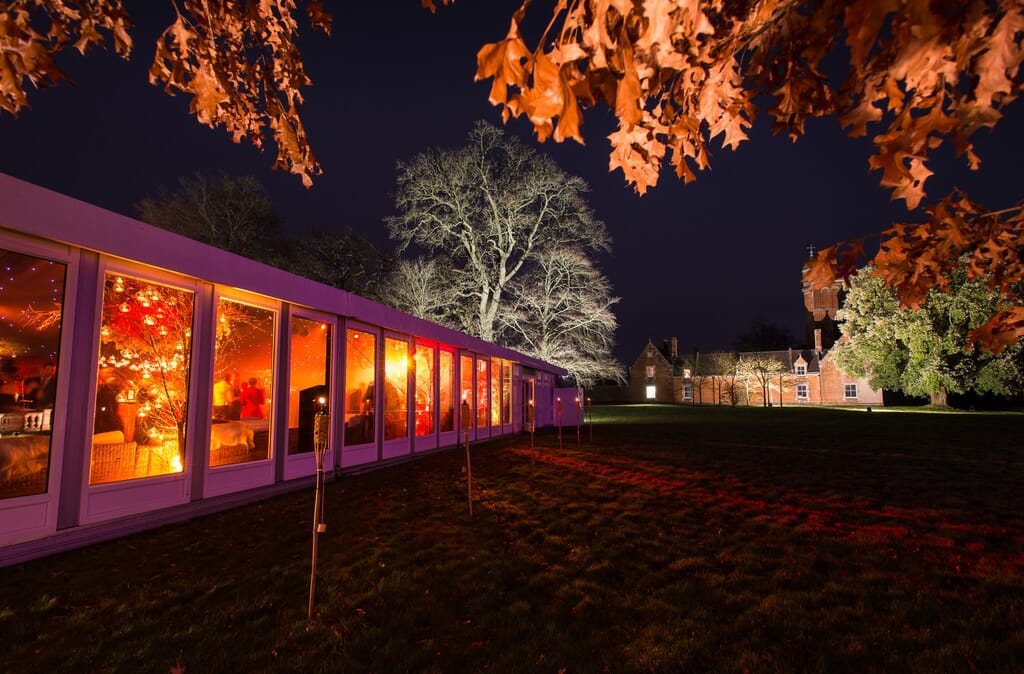 Of course, we all love the British summer (when it goes according to plan…) but don't rule winter out for your luxury wedding. Embrace the darkness to create romance, intimacy and magic…
Here are our top tips for planning your winter wedding:
Winter Evenings
Use the long dark winter evenings to your advantage – think log fires, candlelight, lanterns and fire pits. Our favourite Cotswold wedding venue Lapstone Barn has a wonderful wood burning stove in the bar and a large open fire pit outside. And if you feel like going out with a bang, then a laser or firework display can really make an impressive finale.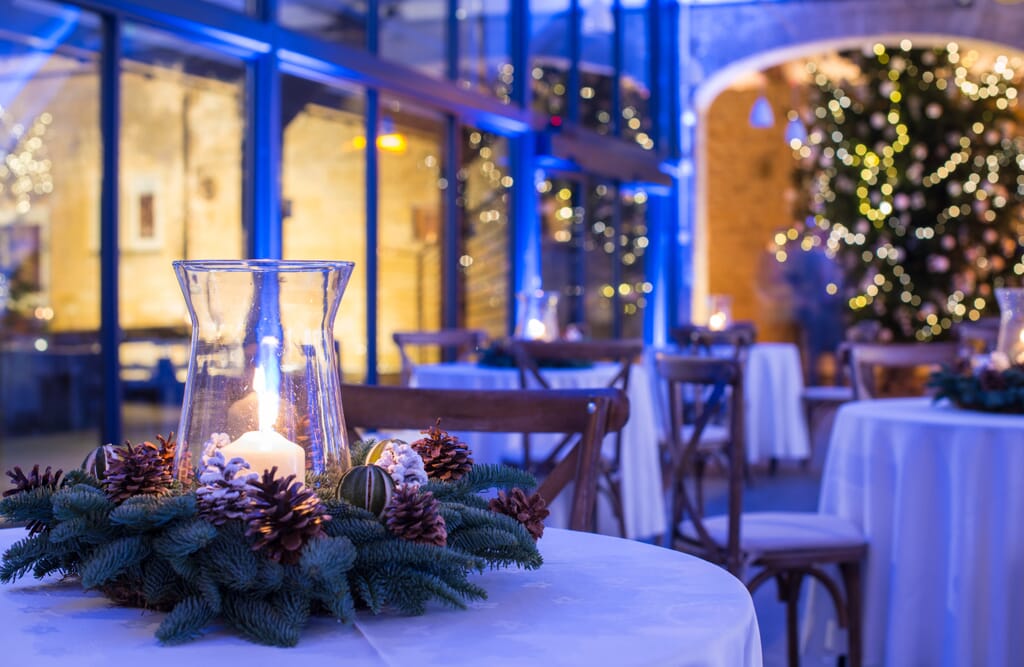 Seasonal Food
We love using local, seasonal food and produce and although it's hard to imagine wintery food in the middle of the summer there are some spectacular winter dishes – indulge in braised brisket of beef, pork belly and crackling, warm chocolate fondant, sloe gin, bramble cocktails…
Warm Things Up
Heating and warmth are vital. A marquee wedding in winter can work brilliantly so long as you take specialist advice on heating and flooring. You may want to use real glass windows or solid sides to provide more protection from the weather. There is nothing worse than guests feeling chilly at the table waiting for the speeches to end. If you are getting married in a barn-style wedding venue ask about the heating and make sure that they have a snow plough or tractor to hand if it is in a rural location.
Furniture and Tableware
Long rustic tables can work brilliantly in the winter, dressed with small trees or antlers, all dripping in tea lights. Embrace the wintery feel with reindeer hides, cosy chill-out seating and a moss-covered whisky bar. Turn the lights down low!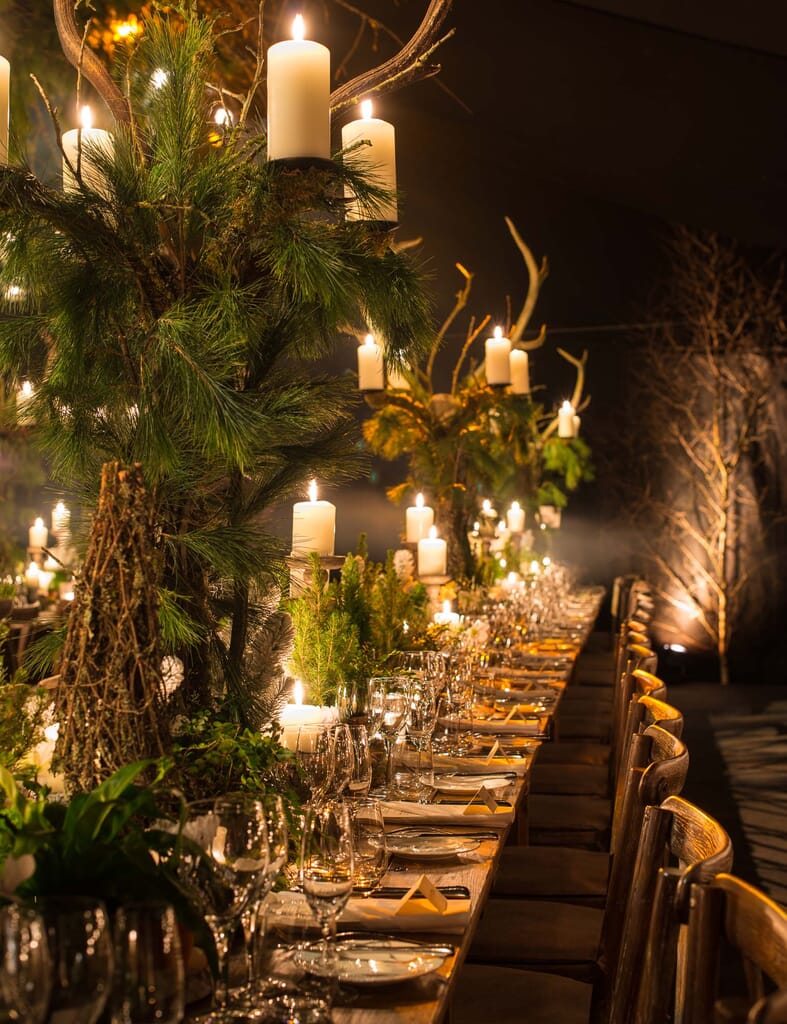 Floral Decorations
Yes, the summer blooms have gone, but take advantage of the abundant green foliage, with bursts of white flowers or richer colours, with table centres focusing on lots of dramatic candlelight and height on each table.
Dress to Impress
This is the season where you can wrap up elegantly in cosy faux fur – make sure you and your bridesmaids have beautiful capes to keep you warm, especially during the ceremony and photographs.
Photography
Photographers love the softer light of winter, but plan your timings of the day so you have enough time for photos in the late afternoon dusk. The right photographer can capture the candlelight and atmosphere of a darkened church and elegantly lit reception alike.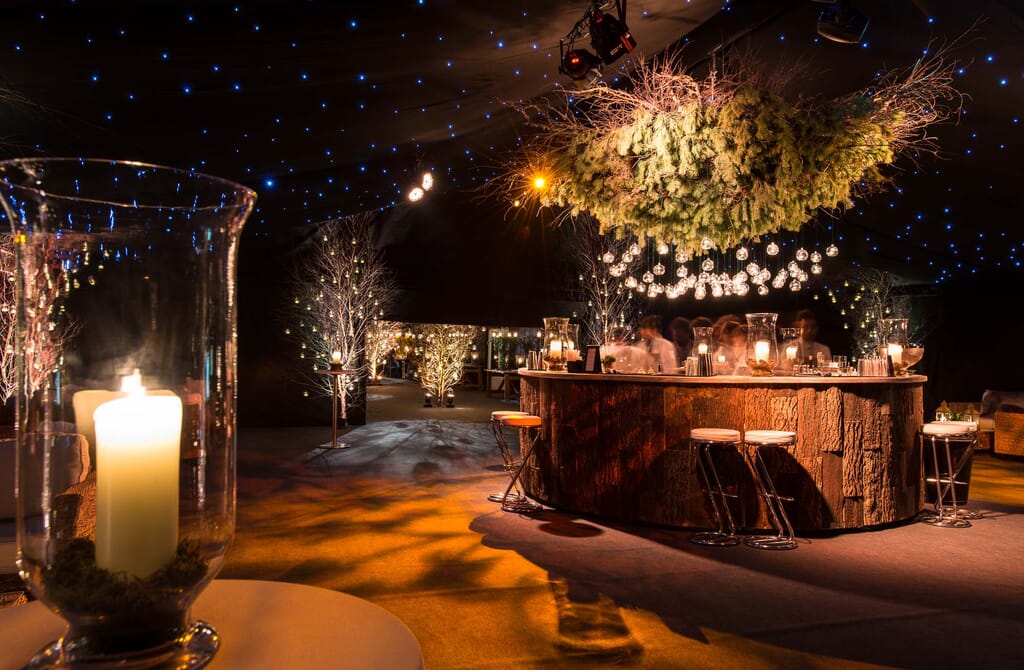 Winter Escapes
Lastly, (and perhaps most importantly!), in wintertime you can escape on honeymoon to some much-needed sunshine further afield, so make it a bucket list destination and perhaps head for the southern hemisphere. Or make the most of the colder months and hunker down in a cosy European ski chalet just for the two of you. Gluhwein, anyone?
Whether you are planning a wedding in London or the Cotswolds, we have the expertise, vision and ideas to make it unforgettable.