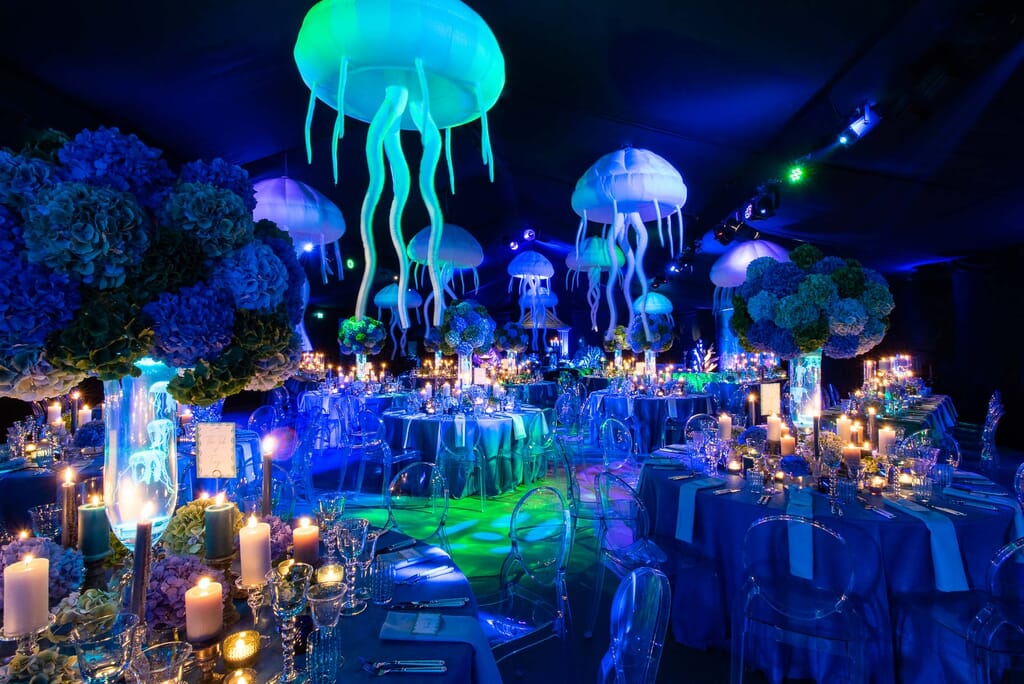 01 Services
Catering
Creative Production
Entertainment
Light Displays
Marquees
Music
Sound, Light and Tech
Technical Production
Project Management
Planning and Design
The brief
The Lost City of Atlantis is a legendary, submerged island civilization that has captivated human imagination for centuries, though its existence remains unproven and is widely considered a myth until we brought it to life!
Guests boarded HMS Bonas and were entertained with Champagne, canapés, cocktails and an electric string quartet. The ship sailed gracefully across the ocean waves until CRASH BANG SMASH!!
The drunken captain hit an iceberg… "Abandon ship, women and children first, to the life boats!"
The ship sunk with all hands on board and the passengers then floated down into an ancient lost underwater city.
The passengers dined on the finest ingredients from the sea served by immaculate  waiting staff.
Passengers then danced the night away in an under water paradise with scuba divers, mermaids, fishermen, fairies and sea horses.
The 12 piece live band was sensational and electrified the dance floor. Cocktails flowed and late night snacks kept passengers going into the early hours.
We created an underwater dream…